Training and assessments in Proof Academy help us evaluate your ability to provide notarial services in compliance with your state's notarial laws and regulations. 
Click a link below to jump to that section.
🎯Primary Audience: On-Demand Notary (ODN)
---
About the Assessments
Each assessment consists of 20 multiple-choice questions.
You have a 2-hour time limit to earn a score of 80% or higher on each attempt to pass the assessment.
| | | |
| --- | --- | --- |
|   | Notary Skills | Platform Certification  |
| Length | 20 questions | 20 questions |
| Type | Multiple-choice | Multiple-choice |
| Passing Score | 80% or higher | 80% or higher |
| Number of Attempts | Unlimited | Unlimited |
---
Assessments Required by Notary Type
| | | |
| --- | --- | --- |
|   | Notary Skills Assessment | Platform Certification |
| On-demand notaries (ODN) | Required | Required |
| Notaries sourcing transactions (NST) | Required | Required |
| In-house Notaries (IHN) in Montana and Wisconsin | Not required | Required |
| In-house notaries (IHN) | Not required | Recommended |
The Notary Skills assessment evaluates your knowledge as a notary and identifies any areas for improvement. After you pass, you gain access to the Proof platform training courses to help you learn how to use Proof. Once you successfully complete the training, you can complete the Platform Training Assessment and earn your Proof Platform Certification. 
---
Prepare for the Notary Skills Assessment
The Notary Skills Assessment is built using guidance from the National Notary Association, state-specific regulations, and resource articles from our Help Center. We encourage you to fully review and comprehend all educational materials provided by your commissioning state's office.
NST Notaries (Non-ODN State) Resources

Visit your Secretary of State's website

---
Florida ODN State Resources

---
Nevada ODN State Resources

---
Texas ODN State Resources

---
Virginia ODN State Resources

---
For assistance with your Proof Academy account, contact the Notary Onboarding team at notaryonboarding@proof.com.
---
Set Up for Success
Here are instructions and helpful tips for the assessment.
Before the assessment
Verify your connection to the internet is strong and reliable.
If possible, use a hard-wired internet connection.
Utilize Google Chrome as your internet browser; this is the preferred browser to complete the assessment.
Ensure that you have allotted sufficient time to complete the 20 multiple-choice questions and can remain at your computer for the duration of the assessment.
During the assessment
Complete the assessment during one sitting.
You cannot navigate between questions during the exam, so be sure of your answer before you continue to the next question.
If you exit the assessment while in the middle of an attempt, it will lock your current question.
Your score will populate on the reporting page at the end of this assessment.
After the assessment
After you successfully complete the training and assessments, you can view your certificate. You can use the links to download the certificate, copy a direct link to it, or share it on LinkedIn.
Retake the assessment
We allow unlimited attempts, so if you don't pass the assessment with an 80% or higher, no worries!
You may retake the assessment immediately after an attempt, or you can study more and return to the assessment for another try. 
Click Take Again underneath your score to generate another assessment.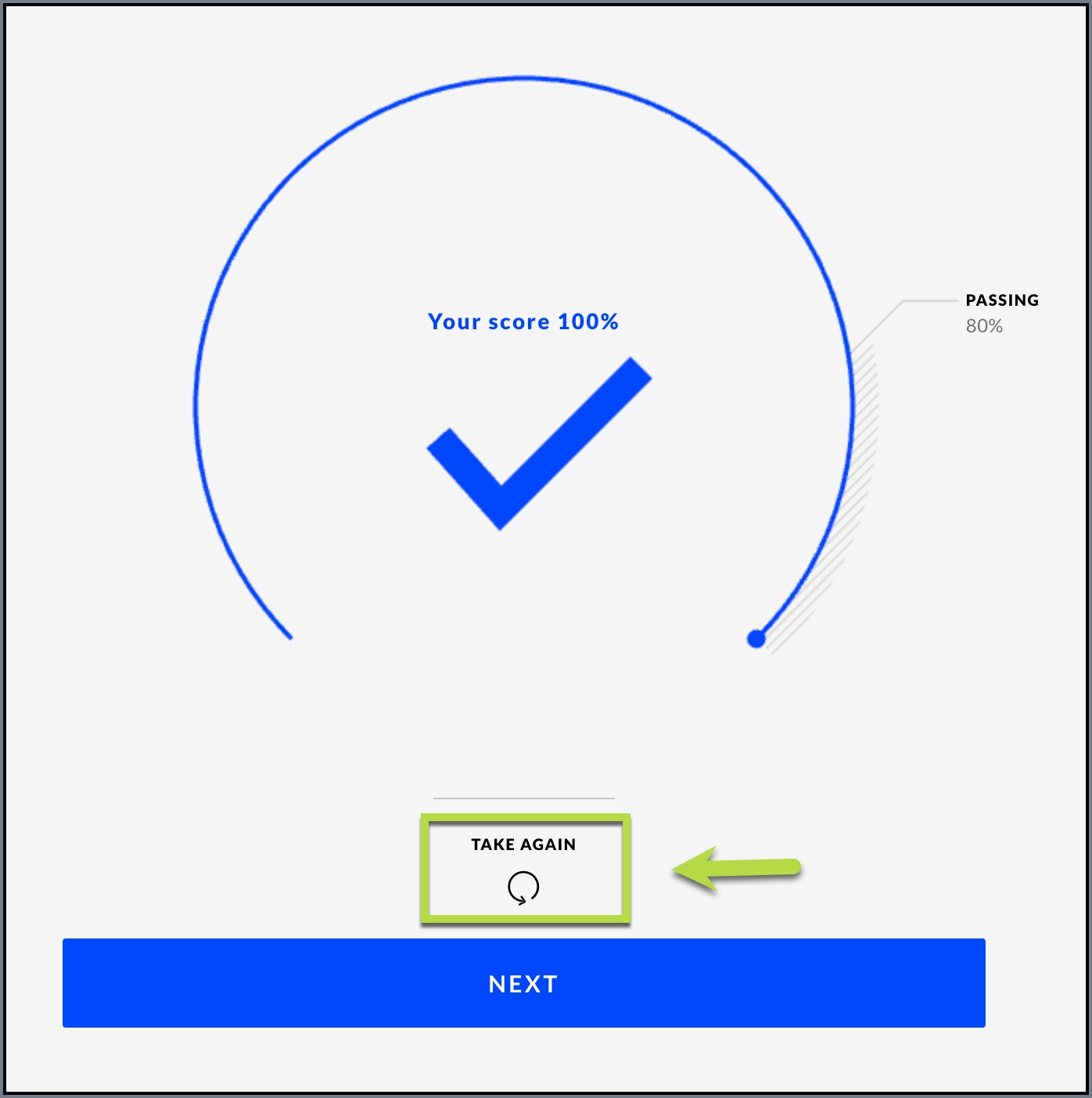 ---
Additional Reading for On-Demand Notaries
CONFIDENTIAL.© 2022-2023 Notarize, Inc. (dba Proof.com)
This document contains confidential information and may not be reproduced or shared without the consent of Notarize, Inc. (dba Proof.com)