Proof does not have an eVault. We currently support integrating with eOriginal for our Business customers. You must have your own vault established with eOriginal. Please work directly with your eOriginal representative if you need help setting up and maintaining your eVaults.
eVaults: Plug in your eOriginal credentials, and we'll seamlessly integrate with your vault.
eNotes: Upload the eNote & sign it in Proof, and we'll upload the signed document to your vault.
🎯Primary Audience: Proof for Business
Instructions on using Proof and eOriginal integration via Proof's interface or through API to eVault documents. 
Setting Up Documents to eVault
A Proof administrator sets up an eOriginal vault in Admin under the Features section of your Organization Details page.
We input and save the credentials provided by you.
eOriginal Login
eOriginal Organization
API Key
After the Proof team sets up the integration, you are ready to eVault your documents. Documents are in PDF format. You can eVault any document.
Setting up Documents to eVault through the Proof Interface
By selecting the green lock icon under the document requirements section, you can designate that a document must be eVaulted when creating a transaction.
Note: Store in eVault is OFF by default. Turn it on for every document you want to be stored.
See an example of a screenshot of using eVault through the Proof platform:

Setting Up Documents to eVault through Proof's API
If you send documents through Proof's API, set the document requirement vaulted = true to mark that document to be sent and stored in your eOriginal vault.
Complete your Meeting and Access your Documents
Complete the meeting as usual on the Proof platform. You have access to watermarked copies of the document(s). Proof also retains watermarked copies of the document(s). The original, authoritative signed document(s) are sent to your eOriginal vault.
View your completed document in your eOriginal vault.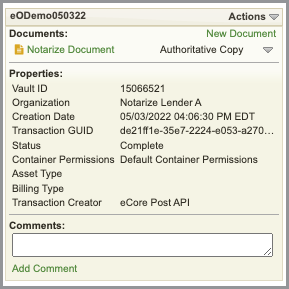 You can also view the Proof Audit Trail in eOriginal as well.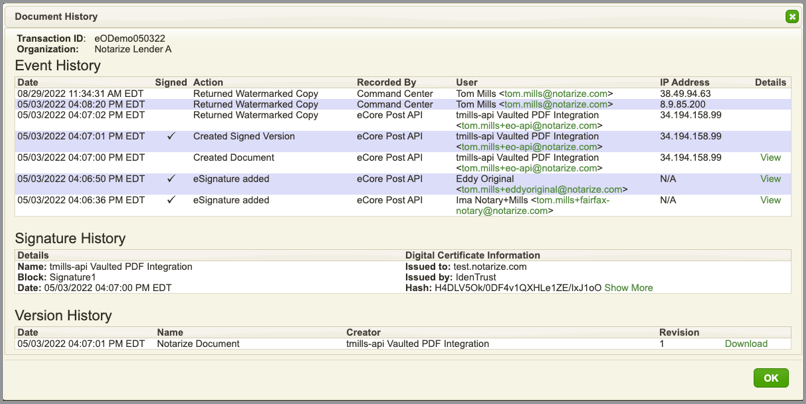 Still have questions you can't find answers to? Click the chat icon in the corner of your screen to start a chat, or email us at support@proof.com.
© 2022-2023 Notarize, Inc. (dba Proof.com) All Rights Reserved.