🎯Primary Audience: Title Agents & Lenders
Notarize with Proof and Payments.io Integration Explained
To set up the integration, review Connect Your Paymints.io Account to Your Proof Account
Selecting the Details icon in Paymints.io takes you to that order on Notarize with Proof, where you'll upload your documents. Once the signing is complete, you can download the executed documents from Notarize with Proof.
Create an Order
Select the Notarize icon at the beginning of any eClosing-eligible address from one of your Payments.io pages:

Clients

Funds In

Funds Out

Provide the following information:

File Number

—

A unique number or text identifier used by the title company
Loan Number

⁠—

The loan number associated with the closing
Underwriter⁠— List of underwriters provided by Notarize with Proof
Purpose

⁠—

Options include Refinance, Purchase - Cash, and Purchase - Loan
View the video on how to create your new order.

 
Upload your documents in Notarize with Proof and complete the order
After creating your order, you're redirected to the list of Notarize with Proof orders. You can go to Notarize with Proof at any time to complete the Notarize with Proof order by adding a closing date and documents to be signed.
Select the Open in New

icon to open your order in Notarize with Proof.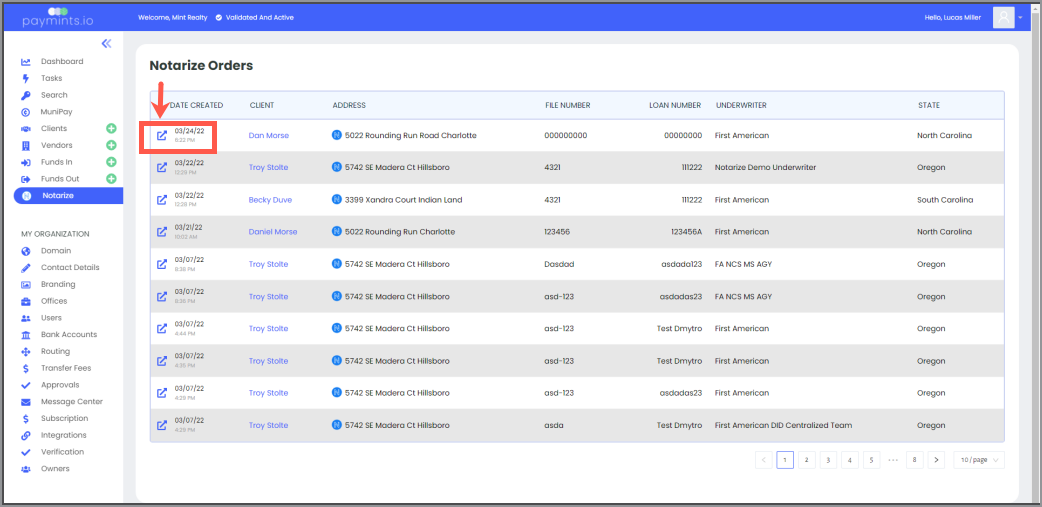 Still have questions you can't find answers to? Click the chat icon in the corner of your screen to start a chat, or email us at support@proof.com.
© 2022-2023 Notarize, Inc. (dba Proof.com) All Rights Reserved.