Overview
If you initiate transactions from your Real Estate account with Proof, you can display your brand logo and colors when customers use one of your links to have a document notarized. Customizing your landing pages and emails gives your customers confidence that Proof is a trusted partner.
🎯Primary Audience: Title Agents & Lenders
ℹ️ Your customers will only see the custom branding when using one of your links. If they visit
Proof.com
, they'll see Proof branding.
---
Requirements
Logos must be at least 36 pixels (px) tall.
The file must not exceed 250 kilobytes (kb). 
Colors must meet Web Content Accessibility Guidelines for color contrast. Visit https://webaim.org/resources/contrastchecker/ for more information.
---
Change Your Brand Settings
Click Settings from the left menu in your account.
Select the arrow next to Brand Customization from the Organization Settings menu on the left:
Click Brand Settings.
Update each component:

Logo & Header

Logo: Select the Logo & header tab > From the Logo box at the top of the page, click Upload your logo to browse for your logo, or drop your logo file into the box.
Co-branded header: From the Co-branded header box (below the Logo box), select Change header style to update how your email headers appear > Click the circle next to the style you want to use > Click Confirm

Brand Colors: Select the Brand colors tab to change the color of signer buttons and links with hex codes. 


Option
Locations
Examples
Web theme

Login screen
Landing pages
Signer progress bar

 
Primary and secondary button

Login screen
Landing pages
Transaction emails

Tertiary

Login screen
Landing pages

Inline link

Login screen
Landing pages
---
Customize Signer Pages
Signer landing page
From the Signer Landing page/tab, add custom text on your landing pages for all signers:
Choose your background color by selecting Theme color (from Brand Settings) or White.

Type a title in the Title box.
Under Body, select Paragraph or Bullet List.
Add your preferred text.

If you'd like to preview the changes, click the dropdown arrow next to Preview Changes and select the type of transaction you'd like to see.
Click (top right of the screen).
Signer login page
From the Signer Login page/tab, choose a template from the options:
Update the theme color, button color, and header style from the Brand Settings section.
Click (top right of the screen).
---
Brand Name
If you want a different name to be displayed to signers other than the official organization's name provided during account setup, you can add a brand name to your account.
Changing this setting only changes the display name for your email sender name, email templates, and signer landing pages; the business name associated with your account stays the same.
Click Settings from the menu on the left of your account.
Select Brand Customization.
Type the desired name under Brand Name in the Brand Settings tab.
Click Save Changes.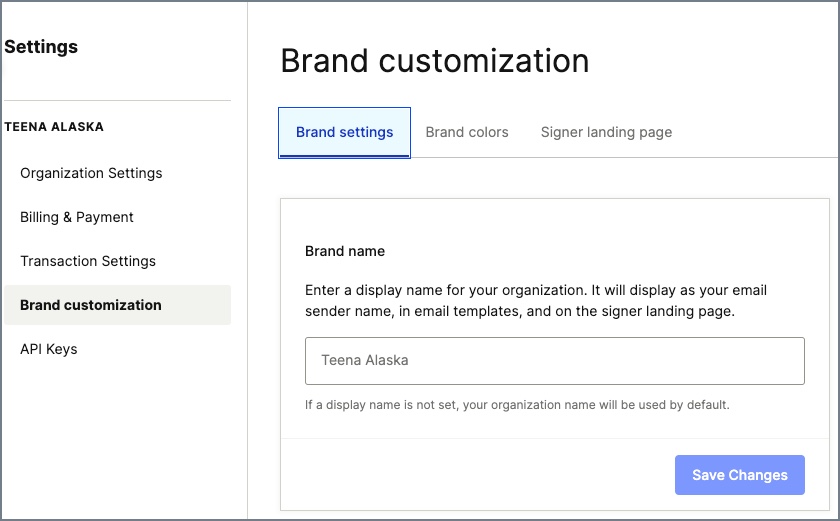 ---
Limitations
Co-Branding will not:
Allow you to customize your email copy.
Display your email domain in the "from" field.
Apply custom colors to buttons or links during Sign Ahead, Knowledge-Based Authentication, or the notary meeting.
Allow you to change/customize existing copy on signer landing pages. 
---
Still have questions you can't find answers to? Click the chat icon in the corner of your screen to start a chat or email us at support@proof.com!
CONFIDENTIAL. © 2022-2023 Notarize, Inc. (dba Proof.com)