Overview
Set up an integration using your Paymints.io account to Notarize with Proof through the integration menu items in the Admin Dashboard.
🎯Primary Audience: Title Agents & Lenders
Establish the Integration
Obtain your API key
Log in to Notarize with Proof.
Click Settings from the menu on the left.
Click API Keys and generate a new API key or copy an existing one.
Add your Notarize with Proof API key to Paymints.io
Log in to your Payments.io account
Click Integrations from the left menu in your Payments.io Admin Dashboard.
Go to the Notarize with Proof Integrations page.
Type or paste your Notarize with Proof API Key.
Click .
You're now connected and ready to use the integration.
If the Notarize with Proof API key expires you can provide a new Proof API key on the Notarize with Proof Integration page at any time.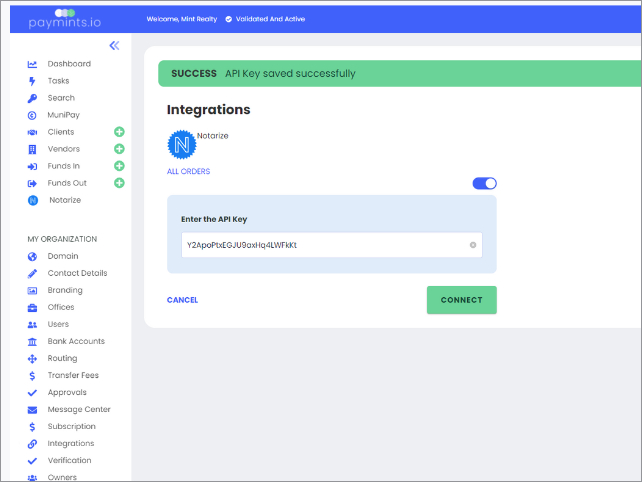 Addresses for all client transfers are automatically verified by Notarize with Proof to determine eClosing eligibility. If the address associated with the client transfer is eligible for eClosing, the Notarize icon appears in front of the address in
paymints.io
.
Still have questions you can't find answers to? Click the chat icon in the corner of your screen to start a chat, or email us at support@proof.com.
© 2022-2023 Notarize, Inc. (dba Proof.com) All Rights Reserved.