Credential Analysis is a process by which a person's government-issued identification card is validated.
Proof uses Credential Analysis as one method of identity verification. The methods available for verifying a signer's identity vary, depending on the state in which the signer lives.
How Credential Analysis Works
The Proof platform runs an automated analysis of the primary credential provided by each signer to determine if the ID they submitted is valid. Multiple factors contribute to the system's algorithm to confirm an ID is valid.
Credential Analysis is presented to users after they pass Knowledge-based Authentication (KBA), if applicable. (KBA is not always required.) 
When the system validates the authenticity of the ID, it means the ID itself is valid. This does not necessarily mean that the person presenting the ID is the same person represented on the ID.

Notaries are responsible for confirming that the person appearing before them is the same person on the credentials provided. 
Credential Analysis Outcomes
If the ID is validated during Credential Analysis, the signer moves on to meet with a notary!
If the validation fails, one of the following messages appears, providing an opportunity to learn more about acceptable forms of ID, as well as the option to return to the dashboard or try again, depending on the situation:
We cannot verify your identity. Your ID does not appear to be valid. Please try again when you have proper identification. 
We're having trouble validating your ID. Please try again. 
We're having trouble validating your ID. The name or date of birth on your ID does not match the name or date of birth that you entered earlier.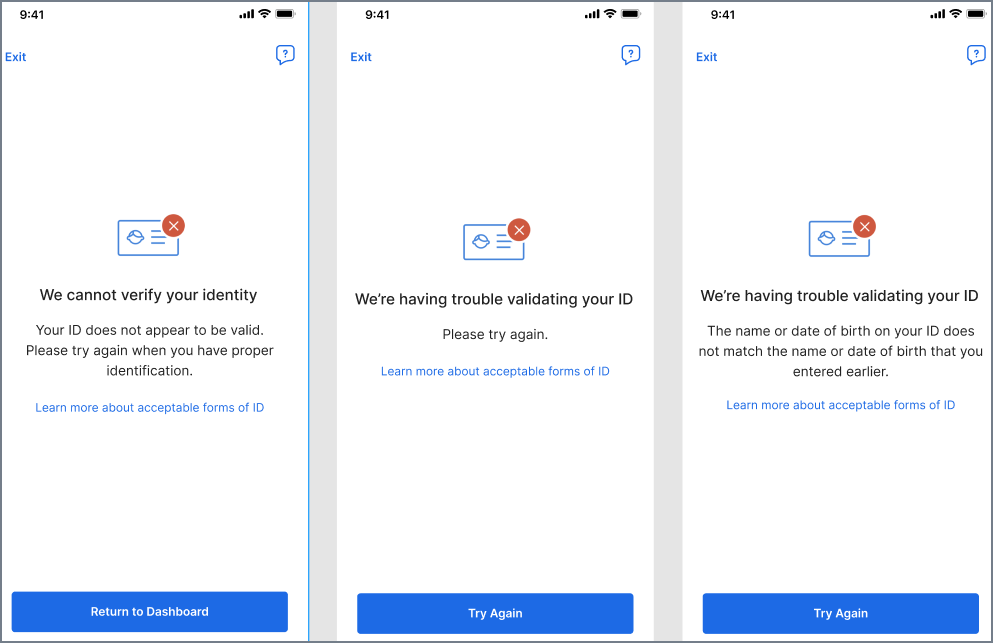 Additional Articles
© 2022-2023 Notarize, Inc. (dba Proof.com) All Rights Reserved.